Akwasi Frimpong
Skeleton
Growing up poor in a one-room home in Kumasi, Ghana, Akwasi Frimpong always dared to dream. At the age of eight he immigrated to the Netherlands. He had never left his hometown or seen white people before. He didn't speak the language and he struggled to make friends at school. But Akwasi was determined to find his place in his new home. He taught himself Dutch by reading books from the library and threw himself into sports.
By 2002, Akwasi was popular, in high school and had earned the nickname GoldenSprint for his speed on the track and field course. "I asked my coach what I needed to do to become a gold medallist," says Akwasi. "He spoke to me about self-discipline and it all started from there." Within 18 months at the age of 17, Akwasi became the Dutch Junior Track & Field 200m champion. "I was the best in my country and won my first gold medal," he says. "From then on, I knew anything is possible as long as you believe in yourself."
"Giving up was an option, but being patient and persistent nurtured the champion from within. Me going to the Games is a message to anyone who is dreaming of something big."
Yet, the fastest sprinter in the country was an illegal immigrant and couldn't compete for his adopted country. So he started the process to get a passport, receiving official residency in 2008. But soon afterwards, Akwasi suffered an injury that crushed his running ambitions for the 2012 Games. Recognizing his athletic assets, Akwasi "was approached by the Dutch bobsleigh coach about joining the team," to compete at the 2014 Winter Olympics. "I had my doubts, but then I remembered Cool Runnings and thought, 'If Jamaicans can do it, so can I!'"
Except he didn't make the cut. Frustrated, Akwasi decided to give up, sell his car and become a door-to-door vacuum salesman, that is, until his coach encouraged him to try a different sport—skeleton. "I didn't think I wanted to do it," he says. "A third sport trying out again, I was afraid of getting disappointed. But my wife told me, 'Hey, I don't want you to be 99 years old and still whining about your Olympic dream, so let's go for it.'"
He did, mastering the sport in less than two years. In 2016, impatient for success, Akwasi decided it was time to move back home to Ghana. There, he founded the Bobsleigh & Skeleton Federation of Ghana and became its only team member. In a West Africa country where the average temperature is 35-degrees Celsius and snow is unheard of, he tackled the impossible. Akwasi traded his sled for a wooden board with wheels, the icy track for indoor shopping malls and barren hills, a coach and teammates for solo training and a fierce passion. It worked. Akwasi qualified for the 2018 Olympic Winter Games.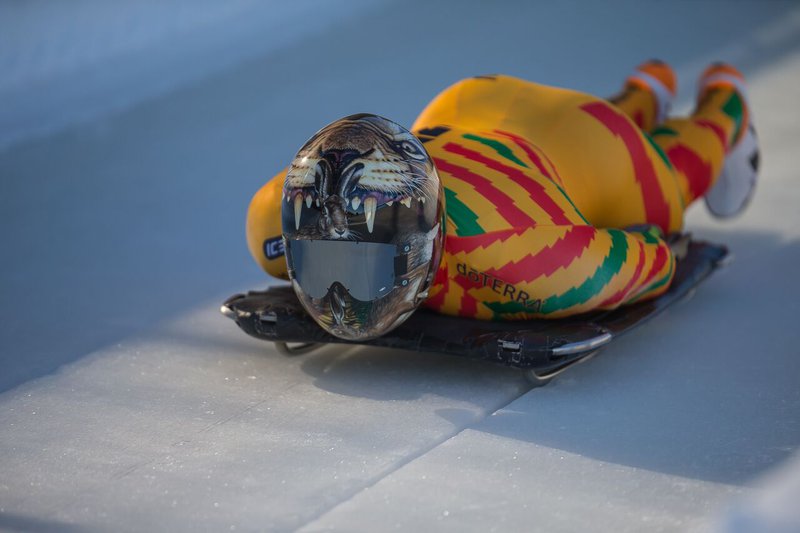 "In life, sometimes our disappointments lead us to where we need to be," he says. "If I'd made it to the Olympics in track and field or bobsled, it would have been a personal achievement. With skeleton, I'm writing history for my country."
All from the heights of the skeleton track. For his Olympic debut Akwasi chose a helmet with a lion holding a rabbit in its mouth. The image, he says, represents the story of his life. He is the rabbit, running from the lions that threatened his survival and success.
While the 31-year-old didn't medal at the 2018 Games, as Ghana's sole competitor and the country's first skeleton athlete, he was recognized as a rising star—a title Akwasi wants to share with others. He's inspiring Ghanaian children to follow in his footsteps and chase their dreams. So far, 200 hopefuls have come forward to join his team and 40 per cent of them are girls.
"I battled for 13 years," says Akwasi. "Giving up was an option, but being patient and persistent nurtured the champion from within. Me going to the Games is a message to anyone who is dreaming of something big."
Akwasi says, that every time he hurls himself down the icy track, the years of struggle disappear and he is filled with freedom and joy. "It feels like I am dancing with the stars."
All photographs by Ron Leblanc